Expressing the fundamental beliefs of the NRA, "The Second Amendment" was featured at the 2005 NRA Convention, in Houston, Texas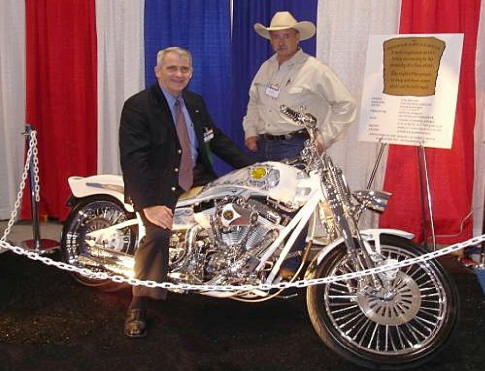 Many members and special guests of the NRA stopped by to visit with owner designer, Jim Brown, including Colonel Oliver North (above) and Congressman Zell Miller (below).

More Pictures From the NRA Convention.
Click On Each Picture To Enlarge For Viewing.
| | |
| --- | --- |
| Joaquin Jackson, 27yr Texas Ranger | Thomas Hammill, POW Escapee in War of Iraq |
The Second Amendment- a Custom Motorcycle that is a showcase of style and freedom. The power of the Harley and the strength of the Colt combine under one smooth saddle to celebrate that one fundamental right that is ours...

Copyright 2006 The Second Amendment, JMB